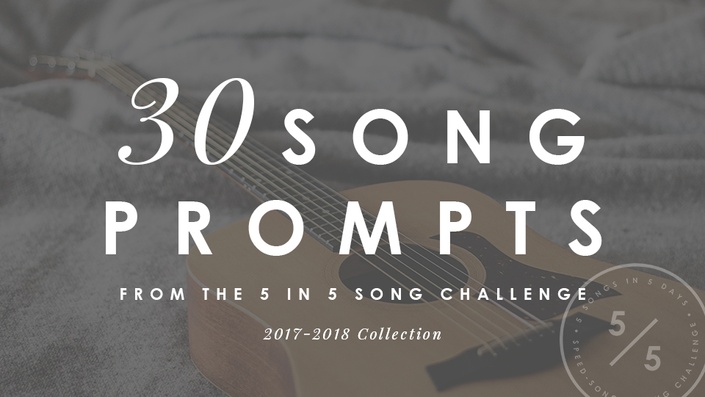 30 Song Prompts: A Prompt A Day
Immersive Songwriting Prompts Emailed to You Daily
From the 5 in 5 Song Challenge
Watch Promo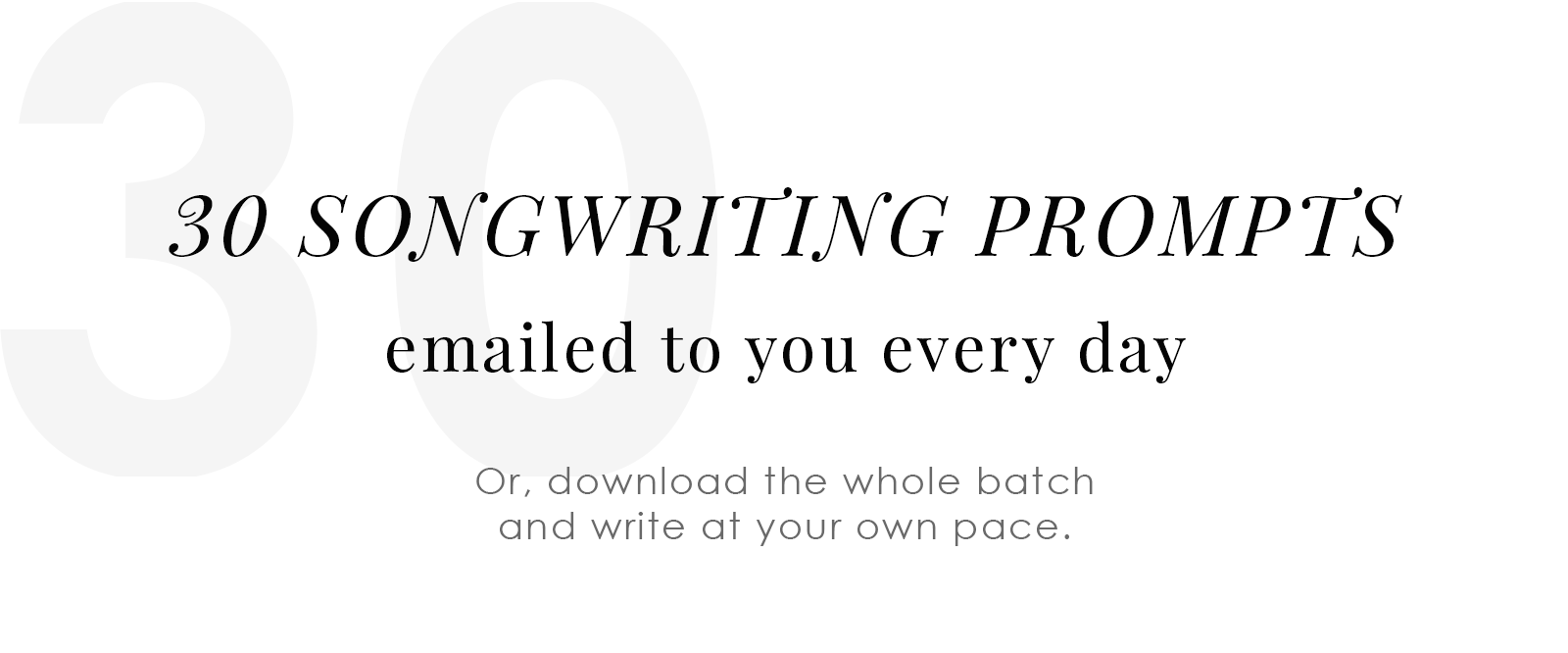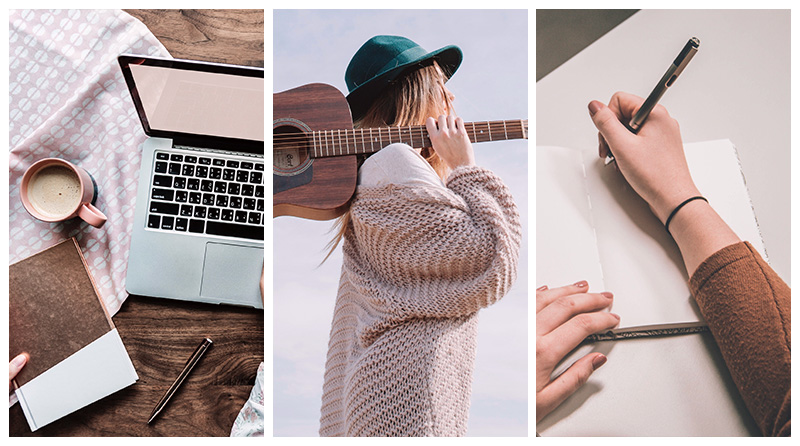 ---
Uniquely Immersive Prompts
No more black text on a white background - these prompts are designed to delight your music with photos, colors, gorgeous typography, and elegant design.
---

---
Writer's block? G'byyye!
Do feel like you're staring down a blank piece of paper more often than you're filling one with words?
Are you waaay too familiar with that feeling of, "My brain is a cement wall today." ?
These songwriting prompts get your creative gears turning quickly
These prompts give you fuel to fire up your songwriting, because they give you major pieces you need: Charged words, places, feelings, even imagery and a sense of time.
You'll feel the undercurrent of a story pulling at you. All you have to do is ask questions. "What's this story about?"
These prompts are great for:
The beginning songwriter
The advanced songwriter
Past 5 in 5 Song Challenge participants who may have only done a challenge or two
Songwriters who have never done a 5 in 5
---

---
The prompts of the 5 in 5 Song Challenge aren't your academic writing prompts. They're vibrant, and come in 4 different variations.
Types of prompts include:
Word Sets
Setting Prompts
Title Prompts
Dare Prompts
---
Course Curriculum
Welcome!
Available in days
days after you enroll
How to Use these Prompts
Available in days
days after you enroll
Let's write!
Available in days
days after you enroll
Your Instructor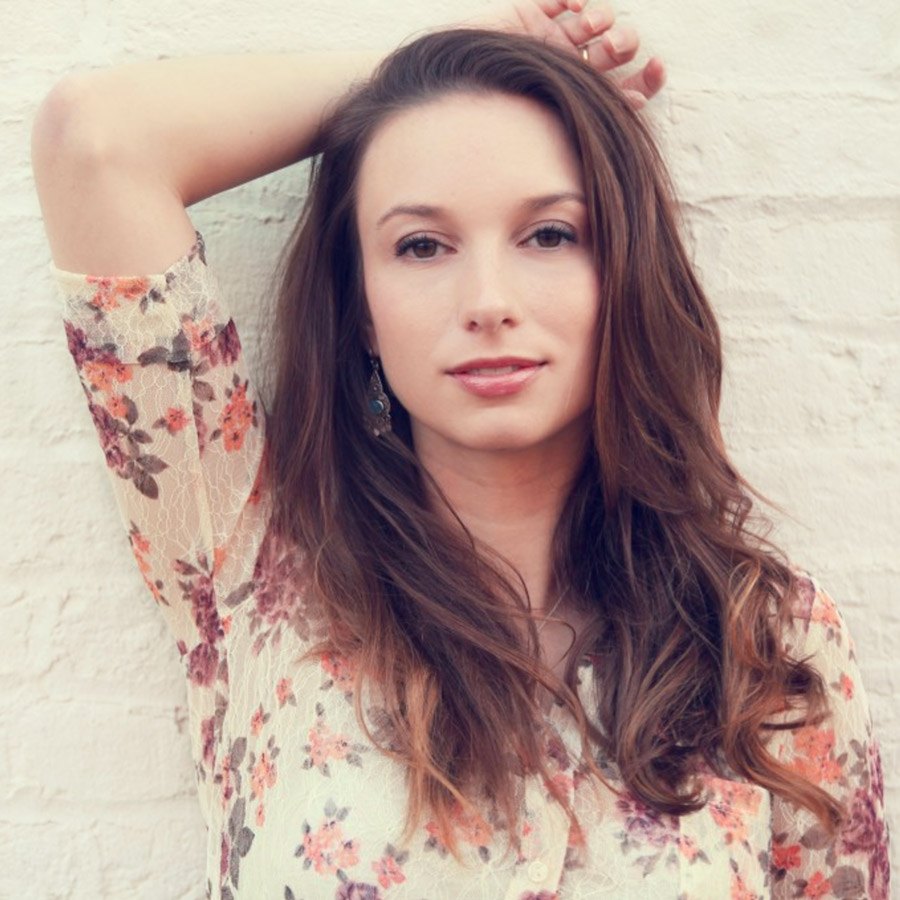 Award-winning singer/songwriter Sarah Spencer has been writing music for the past 17 years. Some of her accomplishments include: Releasing a record with guitar legend Steve Morse, winning Best Country Song in the USA Songwriting Competition, playing multiple sold-out shows at The Bluebird Cafe, winning the Frank Brown Song Contest, and securing cuts with indie artists. She performs frequently around Nashville and works as a graphic designer and session vocalist.
As the primary voice behind SongFancy.com, Sarah shares her experience and song craft with beginning songwriters and performers.
Frequently Asked Questions
How will I receive my prompts?
You'll get 1 email every day for 30 days with new prompt each day. (Your first prompt arrives immediately.) You'll also have the option to download all the prompts at once.
When do I get my first prompt?
Immediately! You can also download the full set of prompts right away as soon as you purchase. No waiting around to start writing! :)
Why should I care about songwriting prompts?
Songwriting prompts are AMAZING for multiple reasons: • They kickstart your creativity when you're fresh out of ideas. • They make you think outside your normal writing comfort zone. • They help you create good songwriting habits. • They help you grow as a songwriter. • They're just fun!
How do I write to a prompt?
This package comes with 4 unique types of prompts that are explained for you in the course, as well as in every email. So when you see a "Word Set" prompt come across your inbox, you'll know exactly how to tackle it! Otherwise, write to them how you please! These prompts are designed to get you writing songs you love. So if a "Word Set" sparks a completely different idea that you want to chase, chase it!
How much does this cost?
One time purchase of $35 and you're enrolled for life! You can come back at anytime and re-download your 30 prompts.
What if I'm not happy with my prompts? I want a refund!
If you're not so stoked about these prompts, you can ask for a full refund within 30 days of purchase. Any prompts that you have already will still be yours to keep. To initiate a refund, request it by email:
[email protected]
Start writing today and grab your prompts!